What's New at the Park
Migration Fallout - May 13, 2018
Warbler migration is at its peak in the park. Golden-winged Warbler is a rare visitor in Bexar county. Photographed at open bird blind.
Golden-winged Warbler
Migration Fallout - May 2, 2018
During spring migration, certain weather conditions cause birds to drop down to feed and rest before continuing their migration. This happened today at Crescent Bend. According to e-bird reports, six birders reported 89 species with 19 warbler species at the park.
Blue-winged Warbler
Rare Bird Sighting - April 21, 2018
A Gray-cheeked Thrush was seen and photographed by several birders at the open bird blind. This bird is only seen during migration, normally in east Texas.
Gray-cheeked Thrush 4/21/18
Signs of Migration - April 2018
Bird migration is now underway and will continue through mid-May.
Nashville Warbler
Indigo Bunting
Signs of Spring - April 2018
Spring has arrived, trees are leafing, wildflowers are blooming. There are signs of new life all around the park. Here's one arrival, a newly emerged Luna Moth.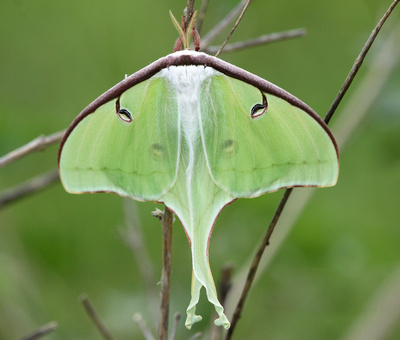 Luna Moth
Rare Visitor - March 2018
Eastern Towhee is still visiting at open bird blind along with spotted towhees.
Eastern Towhee 3/10/18
Rare Visitor - January 2018
The Eastern Towhee is a rare visitor in the park and first seen on December 30, 2017 at the open bird blind. The female towhee continues to be seen through January along with several Spotted Towhees.
Eastern Towhee 12/30/17
Spotted Towhee
Winter Birds - October 2017
The coming of fall brings in winter birds as the summer birds migrate south. Winter sparrows and warblers will start arriving at the park. Look for Lincoln's, Chipping, and Vesper sparrows as well as Yellow-rumped, Orange-crowned, and Pine warblers.
Bird Blinds Makeover - Sept 22, 2017
Next week the Friends will be removing the ponds at the blinds. While the ponds have been a nice feature for the last eighteen months, they have also created numerous issues in trying to maintain them properly with a limited water source. Other mammals such as deer and raccoons have been using the ponds and many times have put holes in the pond liners. The ponds collect animal droppings and debris in stagnant water which without constant proper cleaning, create an unsafe water source for the birds. The ponds are also too large and deep for most birds which is not a water-wise use of water for its purpose. Most birds only require a one to three inches depth to feel comfortable and safe. The ponds will be replaced with smaller, durable water features with the drips to provide a safer, cleaner source to attract birds while using less water.
Fall Migration - September 2017
Update Sept 14th - This past week the following have been reported at the park; American Kestrel, Olive-sided Flycatcher, Least Flycatcher, Wilson's Warbler, American Redstart, Yellow Warblers and Baltimore Orioles.
Fall Migration - August 2017
Update Aug 19th - Peregrine Falcon flyover near first parking lot. Also a juvenile Baltimore Oriole at covered bird blind.
Peregrine Falcon
Update Aug 6th - First Yellow Warbler arrived today at covered bird blind.
We are starting to see the first signs of fall migration in the park. A Least Flycatcher is hanging out at the covered bird blind, 7/31/17.
Least Flycatcher
Other flycatchers, such as the Olive-sided and Yellow-bellied, will soon be showing up along with the early warblers, Yellow and Mourning. To see a bar chart of when birds will arrive and depart at the park, follow this ebird link, http://ebird.org/ebird/barchart?byr=1900&eyr=2017&bmo=1&emo=12&r=L783521 .
SSLGC Water Pipeline Status - June 2017
The Schertz Sequin Local Government Corporation is now in the process of obtaining rights of entry and studies for an alternate route of their water pipeline that does not include Crescent Bend Nature Park. The Friends of Crescent Bend wish to thank the Bexar County Commissioner and the City of Schertz for their support to oppose the pipeline through the park. We also thank the many people who wrote letters and spoke out against the pipeline. Our voices were heard and we did make a difference in helping to preserve the nature of Crescent Bend.
Returning Nighthawk - May 2017
Nighthawks are mainly nocturnal birds hunting for insects and can be found perched during the daytime. They return to the park during the spring migration and will stay through the summer. Both Common and Lesser Nighthawks can be seen in the park with Lesser Nighthawks being more common. One Lesser Nighthawk has been photographed every year for the past five years at his daytime perch. Most days the nighthawk can be found sitting in the same tree, on the same branch during the summer. Its amazing this bird has returned each year to perch in the same location.
Below photos show the nighthawk perched when he was first seen in 2013 and again in 2017. During the last several years, another Lesser Nighthawk has been seen perched in this same tree with our resident nighthawk. A good sign they may be breeding in the park.
Lesser NighthawkPhoto taken in 2013
Lesser NighthawkPhoto taken in 2017
Rare Bird Sightings - January 2017
A hybrid Red-naped x Red-breasted Sapsucker was found and photographed in the park on November 20. The hybrid was not seen again until December 22. Since December 22, the bird comes in every day for water at the covered bird blind. The bird continues to be seen through January 5. This is only the third reported sighting of this hybrid in Texas. The Red-breasted Sapsucker has a range along the west coast in Arizona, California, Oregon, and Washington. The Red-naped Sapsucker has a range in the western US, and far west Texas, and is considered rare in most of Texas. The two species will breed together where their ranges overlap. UPDATE: Sapsucker continues to visit blind almost daily through 1/14/17.
Red-naped x Red-breasted Sapsucker by Ann Mallard 12/26/16
A Rufous-backed Robin was seen and photographed at the covered bird blind on December 20 by Diane Brown. The Rufous-backed Robin's normal range is the west coast of Mexico and is uncommon in the southwestern United States. There have only been seven sightings recorded in Texas.
Rufous-backed Robin by Diane Brown 12/20/16